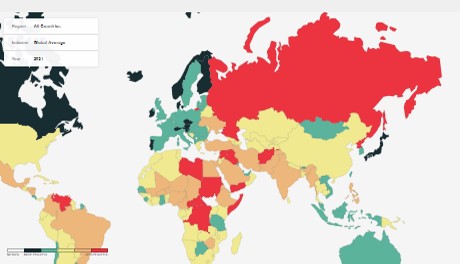 The Global Peace Index, developed by the Institute for Economics and Peace, ranks 163 countries using 23 indicators of peace weighed on a 1-5 scale
The lower the score, the more peaceful the country
The indicators include:

6 measures of ongoing domestic and international conflict including intensity of organized internal conflicts, relations with neighboring countries and number of deaths from conflict
10 measured of societal safety and security including number of refugees and IDPs, impact of terrorism, homicide and incarceration rates
7 measures of militarization including military expenditure, number of armed service personnel, ease of access to small weapons

Lowest scoring country (most peaceful country in the world) – Iceland
Highest scoring country (least peaceful country in the world) – Afghanistan
Least peaceful region – Middle East and North Africa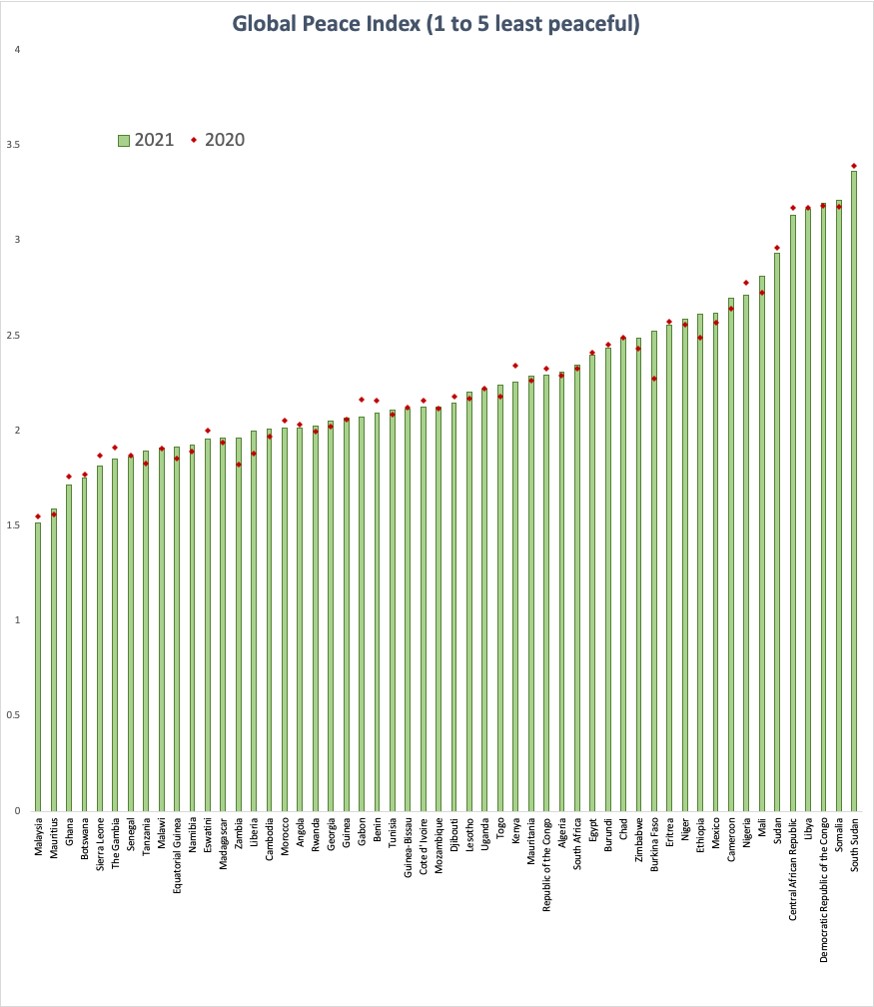 Global Peace Index 2021 (Africa)
Africa recorded a slight reduction in peacefulness in 2021.
Of the 44 countries in the Sub-Saharan Africa region, 21 improved, 22 deteriorated and one remained unchanged.
In Northern Africa, Egypt, Libya and Morroco saw an increase in peacefulness while Algeria deteriorated.
Election disputes and corruption allegations drove a rise in civil unrest and political instability across Africa, with violent protests breaking out.
Mauritius remains the most peaceful country in the region with a slight deterioration, ranked 28th on the 2021 GPI.
South Sudan remains the least peaceful country, despite an improvement in peacefulness on the 2021 GPI.
The largest improvement in peacefulness in the region occurred in Gabon, while the largest deterioration in peacefulness in occurred in Burkina Faso.